If there is any delay longer than 15 minutes on any of the JR-West lines from 6 a.m. to midnight or on the conventional lines in the Kyōto-Ōsaka-Kōbe Area from 4 a.m. to 2 a.m. the next day (or any delay longer than 10 minutes on the conventional lines in the Kyōto-Ōsaka-Kōbe Area from 7 a.m. to 9 a.m. or on the San-yō Shinkansen line or Hokuriku Shinkansen line), or when such a possibility exists, we will inform you of the status of our operations.
This information is available on our website in multiple languages.
Although we will post the latest information, it can be different from the actual situation. Please use the information as a guide.
Please be advised that we will bear no responsibility for any damages resulting from your decisions based on the information on our website.
We post updated service status information for all areas covered by JR-West to our Twitter account.
Areas Offering Train Status Information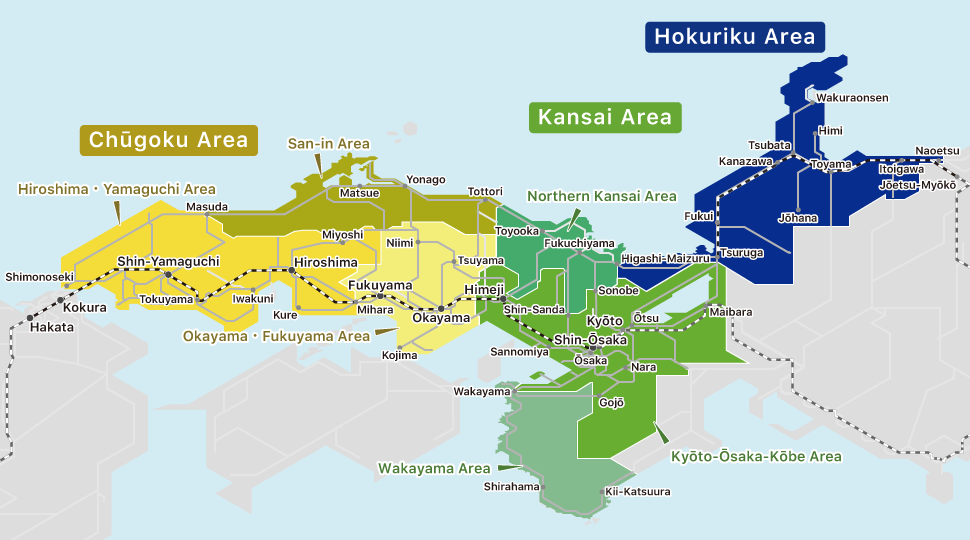 Train Status Information by Area and Line/Train
* Your browser window will not update automatically. Check the date and time above and update this screen by pressing the "Refresh" button on your web browser if necessary.
* Unauthorized duplication, copying, or distribution on any electronic media of this information is prohibited.